On April 7th, 2020, Wisconsin held its primary election at the beginning of the COVID-19 pandemic in the U.S. It was estimated that almost 16% of Black voters were disenfranchised in Milwaukee, the largest city in a key swing state. Miela Fetaw and Brad Lichtenstein, producers and directors, captured the story of the majority Black neighborhood of Metcalfe Park and community organizers Danell Cross and Melody McCurtis in METCALFE PARK: BLACK VOTE RISING.
The following interview has been edited for clarity and brevity.
Why did you want to tell the story of voter suppression in Milwaukee?
Miela Fetaw: At the beginning, I didn't know that I wanted to tell a story about voter suppression. What I knew was [that] the spring election in Wisconsin was a shit show. This was April -- a time when we didn't know what COVID was. We were told to be inside. We knew people were dying. In Wisconsin, we saw that primarily amongst African American communities, in communities like the one that I live in. I was terrified for my life to vote. It felt like the state government made me, amongst other voters throughout the state, choose between our health and the right to vote.
I remember trying to figure out, am I going to go? Knowing how important the election was ultimately, I went along with a dear friend of mine. We stood outside for two and a half hours in the pouring rain. They handed out trash bags so the rain wouldn't get on us completely. Leaving the poll location, [the city of Milwaukee] had gone from 180 polling locations to five. 
I remember leaving angry. I was upset that voting was even something that I had to contemplate. I think [it] started just being a conversation within 371 Productions. There was this fantastic push from Brad to find a story, and to fuel that rage and passion that I had in telling a story about voter suppression.
The other thing was [that] I wanted to tell a story about Milwaukee. There was a lot of helicopter journalism that was happening where national publications were coming in for a few days and telling the story, but I wasn't seeing the story that was being told about Milwaukee.
We took it upon ourselves to tell that story, and we did.
As co-directors, did working collaboratively advance or change the story? What stands out in the process of making METCALFE PARK?
Brad Lichtenstein: The mission, or the commitment, to diversity and inclusion as a company is not something we started a year or two ago. It's not something that we do because it's the right thing. I believe at my core that telling stories about America can only be accomplished if you reflect who America is.
The great pleasure of filmmaking comes in learning new things and being in new circumstances. Working with Miela, being able to step back and let her hold that space with our characters, and to see how things unfold firsthand was really rewarding.
MF: The greatest joy, other than telling this story, was like Brad said, having the space to learn what directing looked like for me. The space to make errors - Brad was not afraid to nudge and impart. I think [that is] why this film is successful.
Every day working on this project was a different memory and a different moment. Each day I learned something, whether it was from Brad or Danell or Melody. The experience as a whole is this very joyful, joyful experience.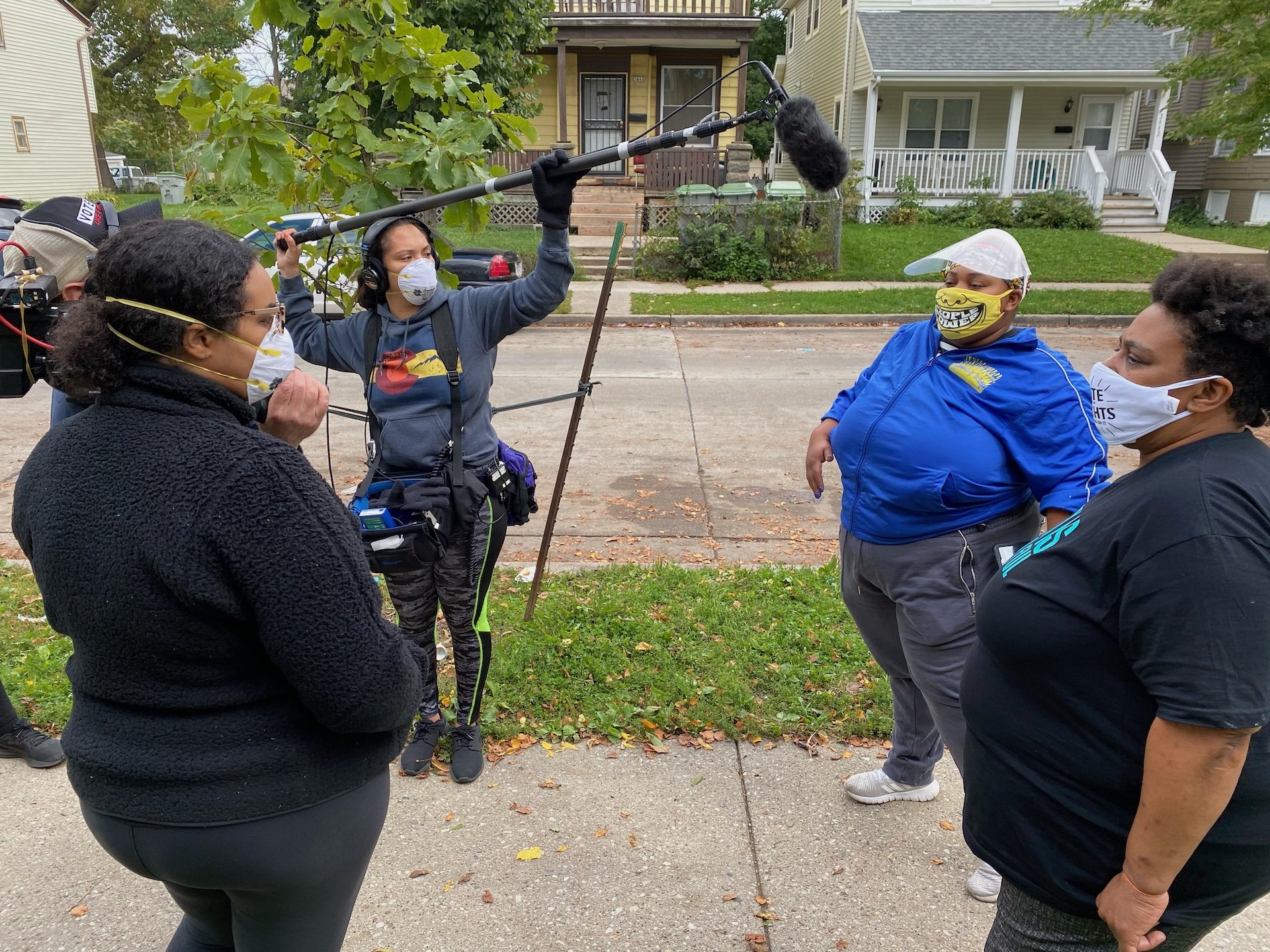 BL: We should call out our colleague Marissa Williams, who is [a] part of a dynamic duo with Miela. The two of them work on lots of projects together. Marissa, our associate producer, is just a dynamo because we were telling this story with a tight timeline and budget. We needed to have tight producing. Marissa just killed it - she would pinch hit for any role that we needed along the way.
MF: In addition to the joy of telling a story about two Black women, it was so profound that my associate producer is a Black and Latina woman. We just got things that I think that non-Black women wouldn't get. We bounced ideas around. Danell and Melody [got it] instantly, because of our shared connection of being Black women. I learned that there's no better person that can tell a story about a Black woman than a Black woman, and Brad.
How critical is community leadership and engagement in communities of color, to make sure that they know their voices are heard?
BL: There's been historic discrimination against voters of color for as long as the United States has been the United States, and as recently as our spring elections during COVID. Community organizing is not just essential, it is the most important thing to make sure people understood how to vote, how to register, how to vote safely.
We can see what happens when voters of color are able to overcome barriers, some of which are very, very purposefully put in their way, in order to vote.
MF: Race as voter suppression has been around for hundreds of years. What makes 2020 so critical, when we look to the future, is that organizers took a different turn when it came to elections. We have Stacy Abrams in Georgia, and we have Danell Cross and Melody McCurtis here in Milwaukee. It was their efforts to ensure that what happened on April 7th did not happen in November.
Brad Lichtenstein is an award-winning filmmaker and founder of 371 Productions. Since 1988, Lichenstein has been making documentaries, and has been nominated for two Emmys and won two Alfred I. duPont Awards.
Miela Fetaw is a producer and director at 371 Productions and an award-winning journalist. Fetaw's work has been featured in newspapers and magazines such as The Washington Post, The Huffington Post, and ESSENCE.
METCALFE PARK: BLACK VOTE RISING is a co-production of 371 Productions, Wisconsin Watch, WORLD Channel and The Intercept.
To dive deeper into the policies leading to voter suppression in Milwaukee, read how "Wisconsin GOP leaders made it harder to vote."
For more stories and films like METCALFE PARK: BLACK VOTE RISING, go to our Your Vote collection.