A look back at a year of inspirational films, passionate filmmakers and honorable awards.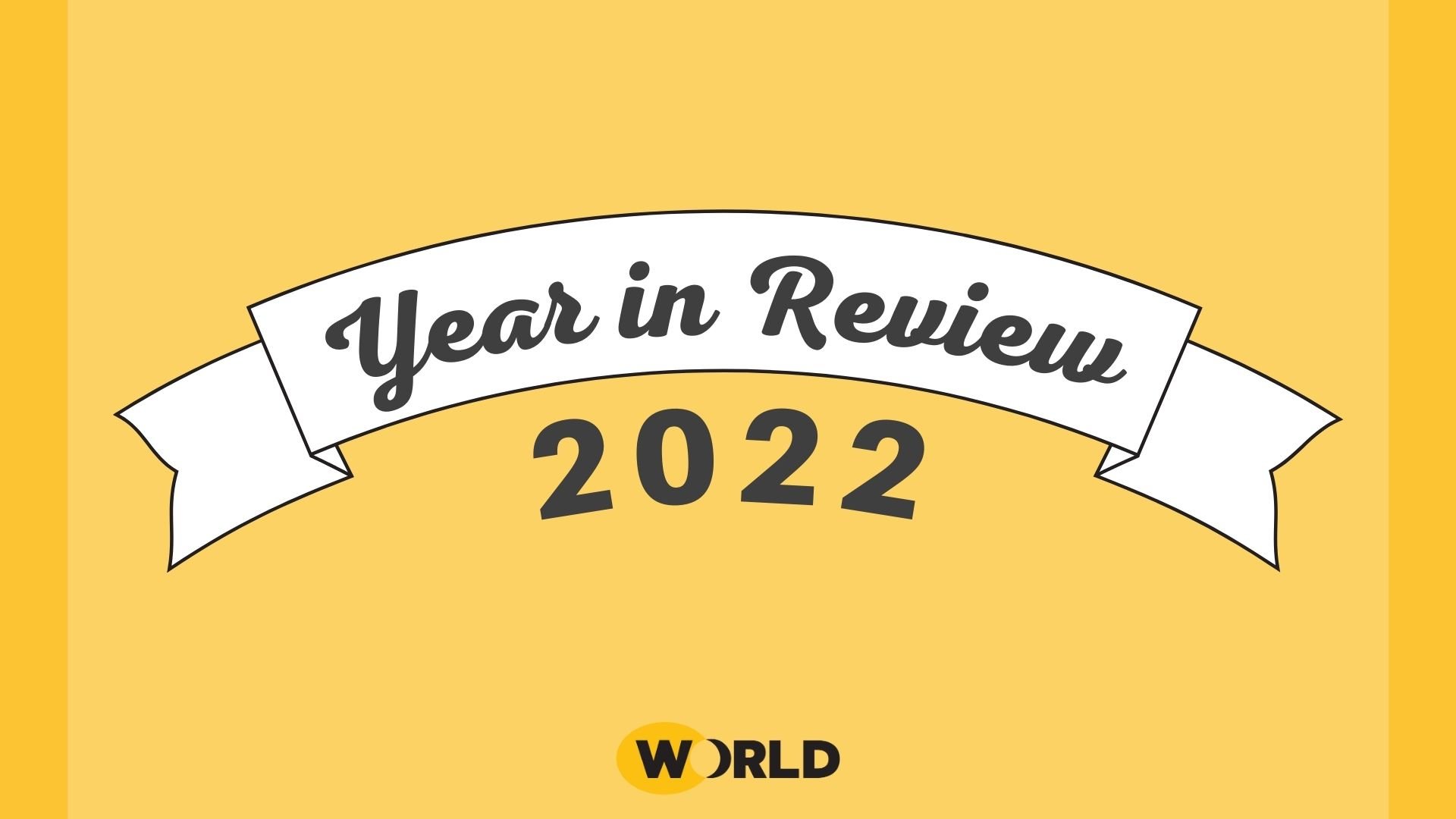 For WORLD Channel, 2022 was full of firsts – anniversaries, discoveries and award recognition. From documentaries that captured humanity's struggles and successes to conversations that connected us to the people living the stories being shared, our films, features and storytelling over the past 12 months have created change within communities and opened eyes and hearts around the globe. We've never been more proud to call our channel a home for diversity, acceptance and empathy and hope to continue work like this for years to come.
Take a glance at our most unforgettable moments of 2022 as we prepare for more captivating films and storytelling in 2023!
WORLD Channel and Its Year-Round Work Recognized by Notable Nominations and Awards
We are thankful to accept these many honors presented by distinguished organizations throughout the year.
America ReFramed took home an esteemed IDA Award for Best TV Feature Documentary for Fannie Lou Hamer's America.
Five Years North won a Telly Award, one of 17 wins for the America ReFramed series as a whole; the film was also nominated for Best Documentary by IMAGEN and in the TV/Video category by Media for a Just Society.
Sisters Rising took home an award by Media for a Just Society in the TV/Video category and placed third at the National Native Media Awards for Best Coverage of Native America (TV).
We're proud to have Local, USA be the home of the Emmy-nominated film Entangled and NETA Public Media Award winner A Tale of Three Chinatowns.
Stories from the Stage: The Podcast is both a NETA Public Media Award winner and Signal Award finalist.
And our General Manager Liz Cheng was recently named a National Academy of Television Arts and Sciences Boston/New England Chapter's Silver Circle honoree.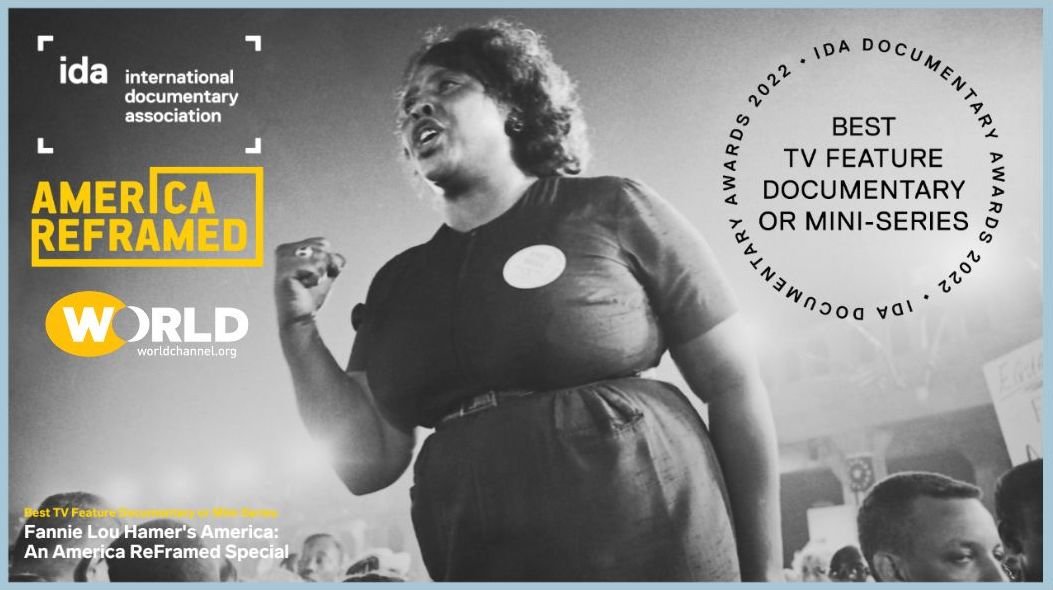 America ReFramed Celebrates a Decade of
Diverse Documentaries and Filmmakers
In February, America ReFramed launched its 10th season of feature-length documentaries with the premiere of Fannie Lou Hamer's America, a film that tells the story of one of the civil rights movement's most influential but misremembered leaders through her own voice in songs and speeches.
Through the documentary, interviews and conversations, viewers like yourselves sought to learn about the life and work of Mrs. Hamer, finding common ground over the strength, self-assurance and compassion of a woman who contributed to the rights of not just Black Americans, but all Americans.
We hosted a "Meet the Makers" panel commemorating the legacy of the leader, wife and mother, joined by executive producer and Mrs. Hamer's great-niece Monica Land, director Joy Davenport, author Dr. Keisha Blain and Academy Award-nominated actress and activist Aunjanue Ellis. If you missed it, you can watch the inspiring conversation, a behind-the-scenes look at the making of Fannie Lou Hamer's America and the film, streaming on PBS Passport.
The rest of the tenth season of America ReFramed was complete with stand-out films like Any Given Day, in which filmmaker Margaret Byrne provides a human lens into mental health and dignity while on her own journey of mental illness; La Manplesa: An Uprising Remembered, a retelling of the 1991 Washington D.C. rebellion through the voices of the immigrant neighborhood's spirited "memory-keepers;" and Kid Candidate, a look at how 24-year-old Hayden Pedigo battled politicking and doubt to make a bid for city council in Amarillo, Texas.
Stories from the Stage Reaches a
Landmark 100 Episodes
Five seasons in and 100 episodes later, Stories from the Stage continues to go strong! When the COVID-19 pandemic interrupted our production in early 2020, the show turned to at-home storytelling and eventually to the studio, but only with empty seats. In mid-2022, we returned to the stage at GBH for in-person storytelling complete with incredible storytellers, enlightening stories and lively audiences ready to laugh, cry and clap for a full minute (buy your 2023 tickets for this in-studio experience).
We celebrated the 100th episode with one of our most charismatic and compelling storytellers to date: Brandon Kazen Maddox (they/them). Brandon, an artist and performer, told their story using American Sign Language (ASL), a first for our show that we hope to see more of in the coming years.

WORLD Is on TikTok!
In March, during Women's History Month, we launched our newest platform with a clip honoring Fannie Lou Hamer's famous Democratic National Convention speech. Since then, we've featured many Stories from the Stage storytellers, like Luciana Naldi, James Griffin and Michele Carlo, whose true, personal stories resonated with audiences and even went viral(!), meeting new viewers where they are with and engaging, short-form content. Be sure to follow us @worldchannel!
Local, USA Zeroes in on the Matters
Most Pressing for Voters
In 2022, voters across the country prepared for the midterm elections; our Your Vote collection featured films that touched on concerns like healthcare, education, immigration and more. This year, a lineup of new Local, USA films premiered ahead of and leading up to the midterms, each offering personal but critical insight into the issues that voters would consider at the ballot box. The films contained stories told by Americans whose lives and communities have been affected by gun violence, climate change and more.
In Heaven: Can You Hear Me?, Black mothers in Philadelphia unite to heal from the trauma of gun violence and break an all-too-common cycle; in Decolonizing Mental Health, BIPOC practitioners advocate for more equity in the mental health industry; A Tale of Three Chinatowns explores gentrification and the housing crisis within our country's Chinatowns; Caretakers profiles Filipino Americans who have shown up for their communities by caring for them during the pandemic; Extremism in America investigates the rise of extremism and how it has been able to grow into the threat it is today; and In Their Element sheds light on the effects of climate change on Indigenous Americans and the land, water and air they've thrived on for centuries.
Doc World Introduces 60 Years of
Afghanistan History Beyond the War Headlines
Prior to the one year anniversary of the U.S. military withdrawal from Afghanistan in August 2022, Doc World presented a four-part limited series examining the progressive and conservative, faith-bound global history of Afghanistan. From the end of King Mohammed Zahir Shah's reign to the aftermath of September 11, Afghanistan: The Wounded Land explores the politics, war and discord Afghans have endured over six decades, and how the country and its people continue to fight for a democratic future.
To dive deeper into the histories and personal stories seen in the films, we hosted a panel with the directors of Afghanistan: The Wounded Land, Mayte Carrasco and Marcel Mettelsiefen, along with Afghan women's rights activists Zohra Yusuf Daoud and Nasrin Nawa, moderated by Afghanistan correspondent and author Atia Abawi. The conversation offered a candid yet compassionate window into life during Afghanistan's past, present and future – watch it on our YouTube.
Afghanistan: The Wounded Land is streaming for free now through the end of the year, and then watch on PBS Passport.
Asian American and Pacific Islander Filmmakers Tell Their Own Stories of Resilience
For Asian American and Pacific Islander Heritage Month in May, we premiered a digital-first shorts series in partnership with the Center for Asian American Media (CAAM) and the Asian American Documentary Network (A-Doc): Asian American Stories of Resilience and Beyond, directed by emerging AAPI filmmakers, became the home of heartfelt stories of how the AAPI community has remained resilient amid hatred, the pandemic and long-standing policies.
We met seven filmmakers like Joua Lee Grande, who showed us how biracial families navigated their identities during the 2020 Black Lives Matter protests; Frances "Frankie" Rubio shared her most vulnerable self to tell the story about her ailing father and the culture of caretaking; and Kimberlee Bassford hopes to revive Hawai'i's Chinatown with her love letter of a film.
WORLD and CAAM continued our partnership on a new series of shorts by young AAPI filmmakers: The Sauce explores the Asian American experience in the American South through short films, from the closeness of the Hmong community in Nash Consing's The Fourth World to how Japanese-Mexican sisters relate to each other and the world in Sushi Nachos by Kei Matsumoto.
---
That's a wrap on 2022, but we're starting 2023 at the very top: On New Year's Day, WORLD will air an America ReFramed marathon as the clock strikes midnight! Rewatch some of your favorites or discover films you've never seen as you ring in the new year.
And that's not all:. In January, storytelling kicks into high gear with three brand new episodes of Stories from the Stage, exploring themes like transformation, defining moments and family relationships. And in February, America ReFramed returns with poignant Black stories for its 11th season.
Want to know what films and events are coming in 2023? Sign up for our newsletter, follow us on Facebook, Twitter, Instagram and TikTok, and subscribe to our YouTube!
---
Enjoy our content? Consider donating to keep important storytelling like this going, and find more on PBS Passport.